Product Description
High Quality NM HRC FCL L Type Flexible Jaw Coupling
1. Material: Carbon steel, Alloy steel, Aluminum, Rubber and Cast Iron etc.
2. Finishing: Painted, blacken, zinc plated and so on.
3. OEM and ODM are available
4. Quick and easy mounting and disassembly.
5. High quality with competitive price
Our coupling type as below:
Chain Coupling: 3012, 4012, 4014, 4018, 5014, 5016, 5018, 6018, 6571, 6571, 8018, 8571, 8571, 1571, 12018, 12571
Tyre Coupling: A40,A50,A60,A70,A80,A90,A100,A110,A120,A140,A160,A180,A200
HRC Coupling: 70, 90, 110, 130, 150, 180, 230, 280
MH Coupling:  45, 55, 65, 80, 90, 115, 130, 145, 175, 200
NM Coupling: 50, 67, 82, 97, 112, 128, 148, 168, 194, 214, 240, 265
Jaw Coupling:  L035, L050, L070, L075, L090, L095, L099, L100, L110, L150, L190, L225
Flange Coupling: 90, 100, 112, 125, 140, 160, 180, 200, 224, 250, 280, 315, 355, 400, 450, 560, 630
Pin Coupling: 67, 83, 102, 134, 178, 204, 254, 318
Spacer Coupling: F40, F50, F60, F70, F80, F90, F100, F110, F120, F140
Jaw Coupling:  L035, L050, L070, L075, L090, L095, L099, L100, L110, L150, L190, L225
HangZhou CHINAMFG Industry Co., Ltd. is a specialized supplier of a full range of chains, sprockets, gears, gear racks, v belt pulley, timing pulley, V-belts, couplings, machined parts and so on.
Due to our CHINAMFG in offering best service to our clients, understanding of your needs and overriding sense of responsibility toward filling ordering requirements, we have obtained the trust of buyers worldwide. Having accumulated precious experience in cooperating with foreign customers, our products are selling well in the American, European, South American and Asian markets. Our products are manufactured by modern computerized machinery and equipment. Meanwhile, our products are manufactured according to high quality standards, and complying with the international advanced standard criteria.
With many years' experience in this line, we will be trusted by our advantages in competitive price, one-time delivery, prompt response, on-hand engineering support and good after-sales services.
Additionally, all our production procedures are in compliance with ISO9001 standards. We also can design and make non-standard products to meet customers' special requirements. Quality and credit are the bases that make a corporation alive. We will provide best services and high quality products with all sincerity. If you need any information or samples, please contact us and you will have our soon reply.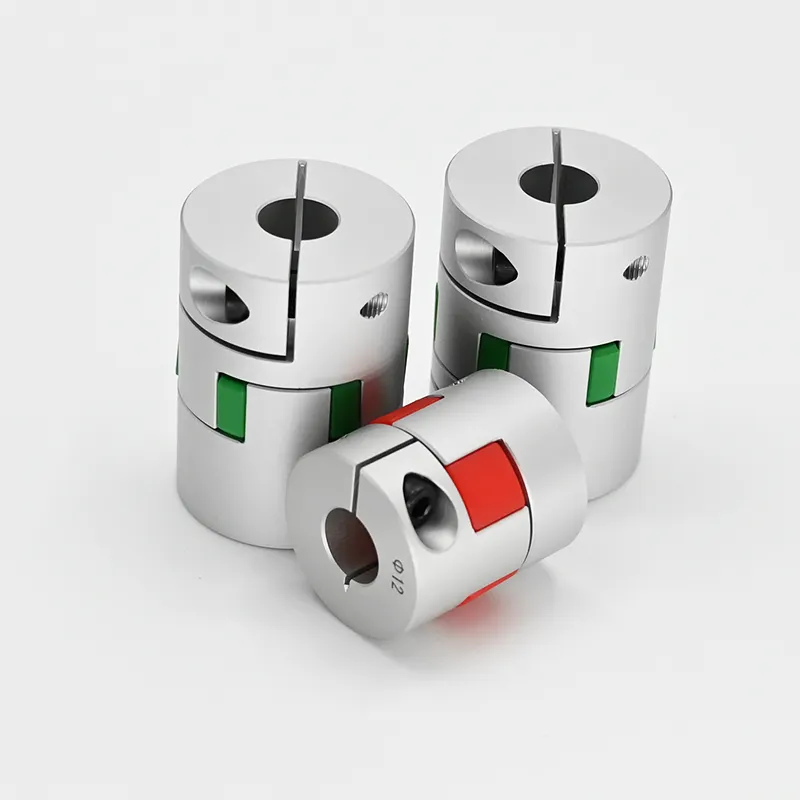 Reducing Downtime and Maintenance Costs with Jaw Couplings
Jaw couplings play a crucial role in reducing downtime and maintenance costs in mechanical systems. Here's how they contribute to improved efficiency and cost-effectiveness:
Shock Absorption: Jaw couplings feature an elastomeric spider between the hubs, which acts as a shock absorber. It helps dampen vibrations and shock loads, protecting connected equipment from sudden impacts. By minimizing the impact of shocks and vibrations, jaw couplings extend the lifespan of components and reduce the need for frequent repairs or replacements.
Misalignment Compensation: In real-world applications, shaft misalignment is almost unavoidable due to factors such as temperature variations, foundation settling, or minor assembly errors. Jaw couplings can accommodate angular and parallel misalignment, reducing stress on connected equipment and minimizing wear on shafts and bearings.
Fail-Safe Design: Jaw couplings are designed with a fail-safe feature. If the elastomeric spider fails due to wear or damage, the jaws of the coupling interlock, allowing the system to continue transmitting torque. This design prevents complete coupling failure and allows the machinery to keep running until scheduled maintenance can be performed.
Easy Installation and Replacement: Jaw couplings are relatively easy to install and replace, which helps reduce downtime during maintenance or equipment upgrades. With simple set-screw or clamp-type hubs, the couplings can be quickly installed or removed without disassembling the entire system.
Cost-Effectiveness: Compared to some other types of couplings, jaw couplings are generally more cost-effective. They offer reliable performance and misalignment compensation at a relatively lower cost. Additionally, the extended equipment lifespan and reduced maintenance needs contribute to long-term cost savings.
By providing shock absorption, misalignment compensation, fail-safe operation, easy installation, and cost-effectiveness, jaw couplings enhance the overall reliability and efficiency of mechanical systems, leading to reduced downtime and maintenance costs.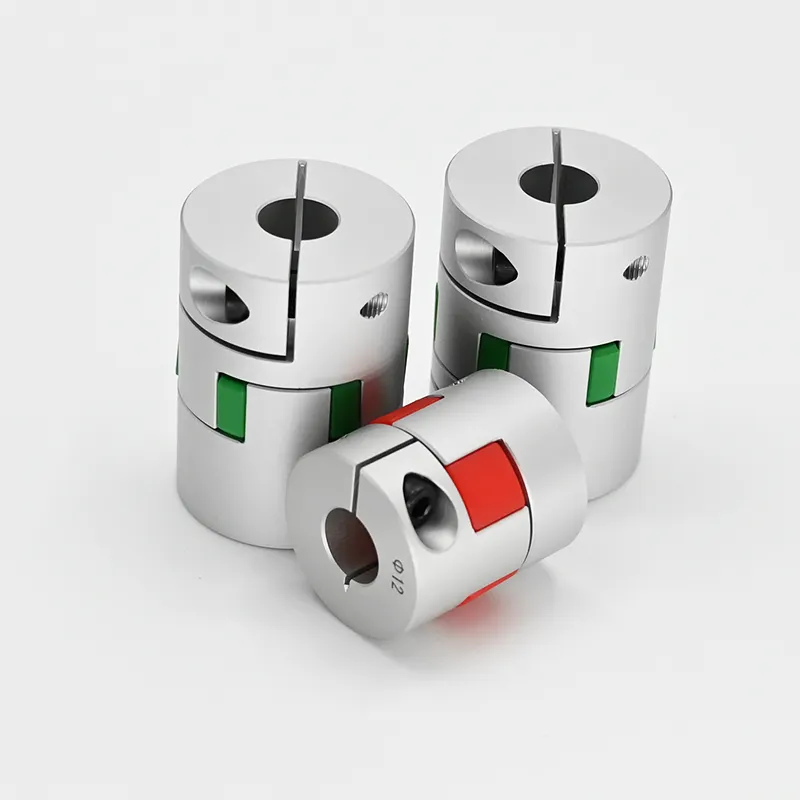 What are the cost implications of using jaw couplings compared to other coupling types?
When considering the cost implications of using jaw couplings compared to other coupling types, several factors come into play. Jaw couplings offer certain advantages and disadvantages in terms of initial cost, maintenance, and overall performance. Here's a breakdown of the cost considerations:
Initial Cost: In terms of initial cost, jaw couplings are generally more budget-friendly compared to some other coupling types such as gear couplings or disc couplings. Jaw couplings have a relatively simple design, using fewer components, which often makes them more economical to manufacture and purchase.
Maintenance: Jaw couplings have a reputation for being low-maintenance couplings. Their elastomer spider is a wear-resistant and replaceable component, which means that in case of wear or damage, only the elastomer needs to be replaced rather than the entire coupling. This feature can contribute to lower maintenance costs and reduced downtime compared to couplings with more complex designs that require complete replacements when worn or damaged.
Performance: The cost implications of jaw couplings compared to other types are also influenced by performance considerations. Jaw couplings provide good misalignment compensation and damping of vibrations, making them suitable for a wide range of applications. However, for specific high-torque or high-precision applications, more specialized coupling types like grid couplings or disc couplings may be required. The higher performance capabilities of these couplings might justify their higher initial cost in certain scenarios.
Application Requirements: The cost-effectiveness of jaw couplings versus other types depends on the specific requirements of the application. If a coupling's design features align well with the application's needs, such as handling moderate misalignment and torque levels, then a jaw coupling may be the most cost-effective choice. On the other hand, if the application demands exceptional torque capacity, high precision, or extreme environmental conditions, a more advanced and costly coupling type may be necessary.
In summary, jaw couplings generally offer a cost advantage in terms of their lower initial cost and relatively low maintenance requirements. However, the most cost-effective choice depends on the specific application and its performance demands. It is essential to evaluate factors such as torque requirements, misalignment compensation, maintenance needs, and operating conditions to determine the best coupling type that balances performance and cost-effectiveness.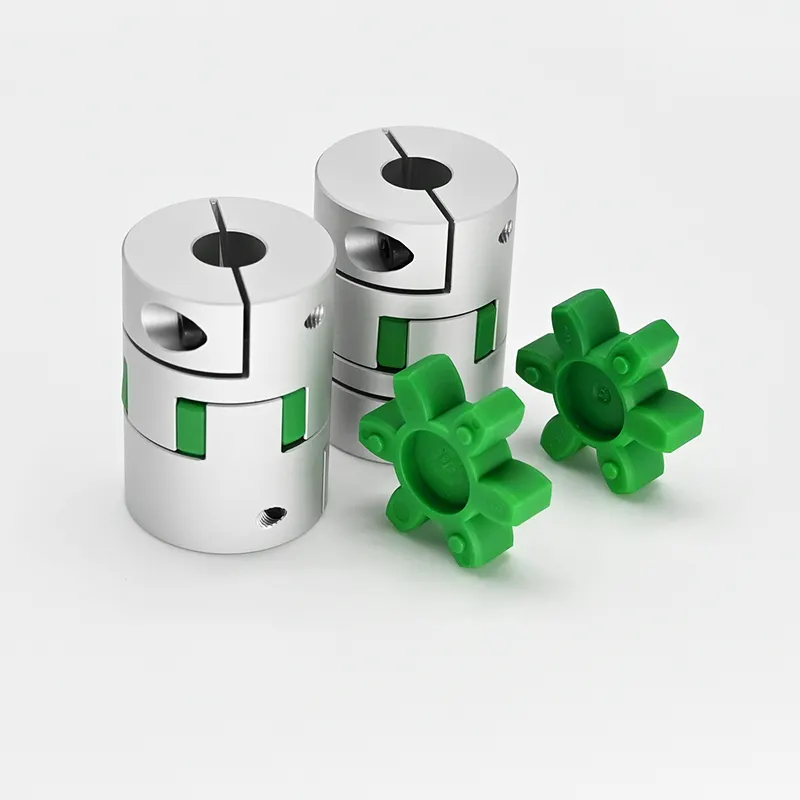 Types of Jaw Coupling Designs
Jaw couplings come in various designs to meet different application requirements. The main types include:
One-Piece Jaw Coupling: This design consists of a single piece of material, typically made of steel or aluminum. It offers simplicity and compactness, making it suitable for light to medium-duty applications.
Two-Piece Jaw Coupling: This design features two separate hubs with a flexible spider placed in between. The two-piece design allows for easier assembly and disassembly, making it convenient for maintenance and replacement of the elastomeric spider.
Three-Piece Jaw Coupling: In this design, the coupling includes three parts: two hubs and an insert. The hubs are typically made of metal, while the insert is an elastomeric element (spider). Three-piece jaw couplings provide better damping of vibrations and are commonly used in applications where vibration isolation is crucial.
Customizable Jaw Coupling: Some manufacturers offer customizable jaw couplings, allowing customers to choose different hub styles, materials, and spider hardness to tailor the coupling's performance for specific applications.
Each design has its advantages and is selected based on factors such as torque requirements, misalignment compensation, and ease of maintenance.



editor by CX 2023-09-18