Product Description
Product Description
COUPLINGS
| | | | | | | | |
| --- | --- | --- | --- | --- | --- | --- | --- |
| HRC | FCL | Chain coupling | GE | L | NM | MH | Torque limiter |
| HRC 70B | FCL90 | KC4012 | GE14 | L050 | NM50 | MH45 | TL250-2 |
| HRC 70F | FCL100 | KC4014 | GE19 | L070 | NM67 | MH55 | TL250-1 |
| HRC 70H | FCL112 | KC4016 | GE24 | L075 | NM82 | MH65 | TL350-2 |
| HRC 90B | FCL125 | KC5014 | GE28 | L090 | NM97 | MH80 | TL350-1 |
| HRC 90F | FCL140 | KC5016 | GE38 | L095 | NM112 | MH90 | TL500-2 |
| HRC 90H | FCL160 | KC6018 | GE42 | L099 | NM128 | MH115 | TL500-1 |
| HRC 110B | FCL180 | KC6571 | GE48 | L100 | NM148 | MH130 | TL700-2 |
| HRC 110F | FCL200 | KC6571 | GE55 | L110 | NM168 | MH145 | TL700-1 |
| HRC 110H | FCL224 | KC8018 | GE65 | L150 | NM194 | MH175 |   |
| HRC 130B | FCL250 | KC8571 | GE75 | L190 | NM214 | MH200 |   |
| HRC 130F | FCL280 | KC8571 | GE90 | L225 |   |   |   |
| HRC 130H | FCL315 | KC1571 |   |   |   |   |   |
| HRC 150B | FCL355 | KC12018 |   |   |   |   |   |
| HRC 150F | FCL400 | KC12571 |   |   |   |   |   |
| HRC 150H | FCL450 |   |   |   |   |   |   |
| HRC 180B | FCL560 |   |   |   |   |   |   |
| HRC 180F | FCL630 |   |   |   |   |   |   |
| HRC 180H |   |   |   |   |   |   |   |
| HRC 230B |   |   |   |   |   |   |   |
| HRC 230F |   |   |   |   |   |   |   |
| HRC 230H |   |   |   |   |   |   |   |
| HRC 280B |   |   |   |   |   |   |   |
| HRC 280F |   |   |   |   |   |   |   |
| HRC 280H |   |   |   |   |   |   |   |
Catalogue
Workshop
   Lots of couplings in stock
 
FAQ
Q1: Are you trading company or manufacturer ?
A: We are factory.
 
Q2: How long is your delivery time and shipment?
1.Sample Lead-times: 10-20 days.
2.Production Lead-times: 30-45 days after order confirmed.
Q3: What is your advantages?
1. The most competitive price and good quality.
2. Perfect technical engineers give you the best support.
3. OEM is available.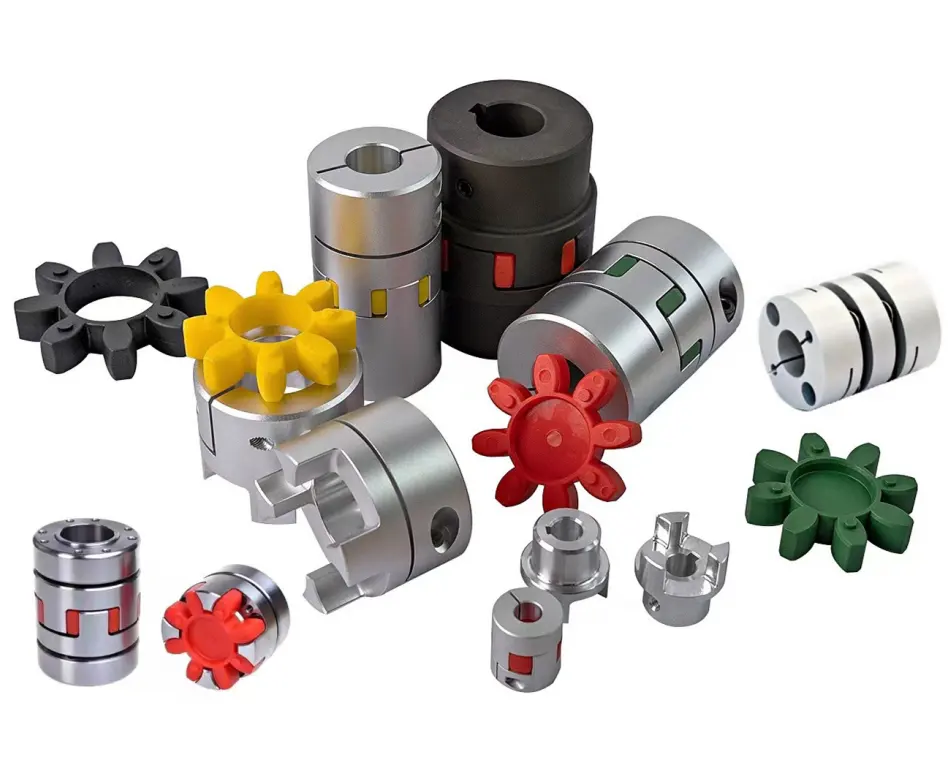 Accommodating Variable Operating Conditions and Loads with Jaw Couplings
Jaw couplings are designed to accommodate variable operating conditions and loads, making them suitable for a wide range of applications. Here's how jaw couplings achieve this:
Flexibility: The elastomeric spider (flexible element) in a jaw coupling provides flexibility, allowing for angular, parallel, and axial misalignment between the connected shafts. This flexibility helps to compensate for minor misalignments that may occur during operation or due to changes in operating conditions.
Shock Absorption: The elastomeric spider also acts as a shock absorber, dampening vibrations and reducing the impact of sudden loads or shocks. This feature is particularly beneficial in applications where the connected equipment may experience variable or unpredictable loads.
Torsional Stiffness Options: Jaw couplings are available in different torsional stiffness options, depending on the specific application requirements. Couplings with higher torsional stiffness are suitable for precision applications with minimal misalignment, while those with lower stiffness are ideal for applications with higher misalignment and shock absorption needs.
Material Selection: Jaw couplings can be manufactured from various materials, such as aluminum, steel, or stainless steel, to suit different environmental conditions and loads. Corrosion-resistant materials are available for harsh environments, ensuring the coupling's performance remains unaffected by changing operating conditions.
Size and Torque Ratings: Jaw couplings are available in a wide range of sizes and torque ratings, allowing users to select the appropriate coupling based on the expected operating conditions and torque requirements of the application. It's essential to choose a coupling size that comfortably handles the maximum expected load.
Interchangeability: Many jaw couplings are designed to be interchangeable with other manufacturers' couplings of the same size and type. This feature provides flexibility in sourcing replacements and makes it easier to adapt the coupling to changing requirements or equipment configurations.
Overall, jaw couplings' ability to handle variable operating conditions, misalignments, and loads makes them versatile and reliable components in a wide range of mechanical systems and applications.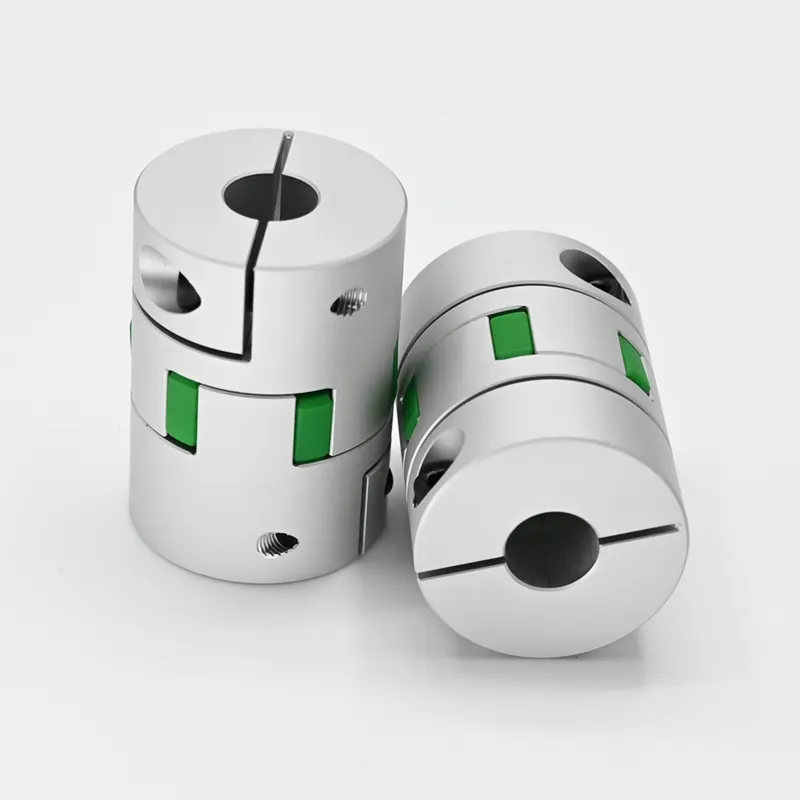 Can jaw couplings be used in servo motor and stepper motor applications?
Yes, jaw couplings can be used in both servo motor and stepper motor applications, and they are commonly employed in such systems. The key factors that make jaw couplings suitable for these motor types are their ability to handle misalignment, their torsional flexibility, and their compact and lightweight design.
In servo motor applications, jaw couplings are chosen for their high precision and responsiveness. Servo motors require couplings that can transmit torque with minimal backlash and provide accurate motion control. Jaw couplings achieve this by maintaining a tight fit between the elastomer spider and the coupling hubs, minimizing backlash and ensuring precise torque transmission. The elastomer spider also dampens vibrations and shocks, contributing to smoother motor operation and increased system stability. Additionally, the compact size and low inertia of jaw couplings make them ideal for high-speed servo motor applications where quick acceleration and deceleration are crucial.
In stepper motor applications, jaw couplings are preferred for their ability to handle misalignment. Stepper motors often have shaft misalignment due to manufacturing tolerances or other factors, and jaw couplings can accommodate both angular and parallel misalignment without imposing significant additional loads on the motor bearings. This helps to reduce wear and extend the life of the motor and coupling components. Moreover, stepper motors are commonly used in open-loop systems, where precise positioning and motion control are essential. Jaw couplings' low backlash characteristics aid in achieving accurate positioning and eliminating any motion inaccuracies that might arise due to backlash in the coupling.
Overall, jaw couplings are well-suited for servo motor and stepper motor applications due to their precision, ability to handle misalignment, torsional flexibility, and low inertia. When selecting a jaw coupling for a specific motor application, it is essential to consider factors such as torque requirements, operating conditions, and motor specifications to ensure optimal performance and reliability in the system.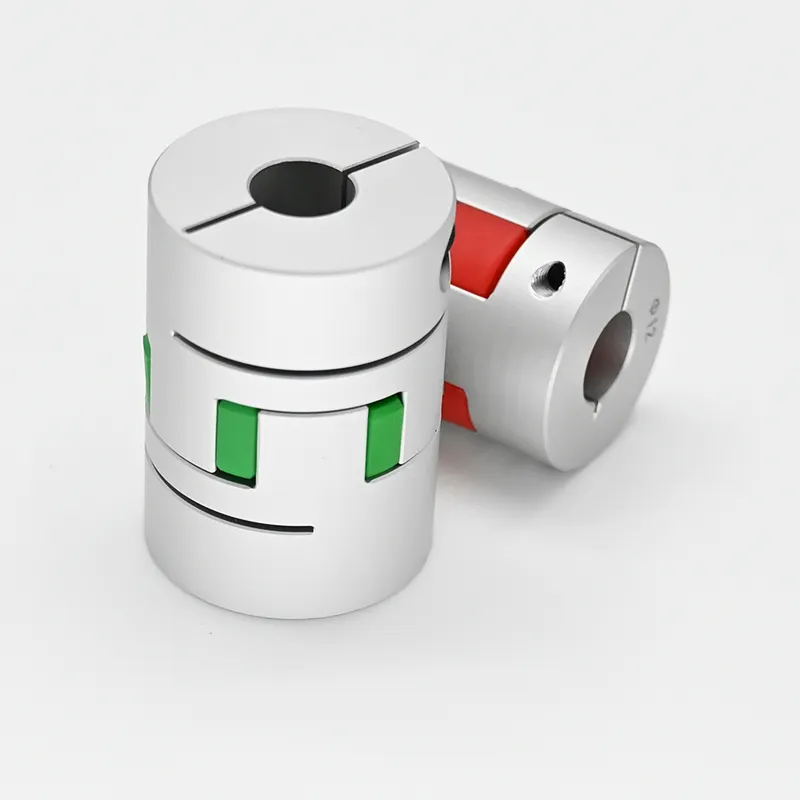 Selecting the Appropriate Jaw Coupling Size
Choosing the right jaw coupling size for a specific application involves considering several factors:
Torque Requirements: Determine the maximum torque that the coupling will need to transmit in the application. Make sure to account for any peak or intermittent loads.
Shaft Diameter: Measure the diameter of the shafts to be connected. The coupling's bore size should match the shaft diameter for proper fit and secure power transmission.
Speed: Consider the rotational speed of the application. High-speed applications may require special high-speed jaw couplings.
Misalignment Compensation: Evaluate the level of misalignment present in the system, including angular, parallel, and axial misalignment. Choose a jaw coupling with appropriate misalignment capabilities to avoid premature wear and failures.
Environmental Factors: Assess the environmental conditions, such as temperature, humidity, and presence of chemicals or contaminants, as these factors can impact the coupling's material selection and performance.
Service Factors: Some applications may have service factors that affect the required torque capacity. Apply service factors as needed to ensure the coupling can handle the application's demands.
Space Constraints: Consider the available space for the coupling. Ensure that the selected jaw coupling can fit within the given space constraints.
Compliance with Standards: If applicable, verify that the chosen jaw coupling meets industry or application-specific standards and regulations.
By taking these factors into account, engineers and designers can determine the appropriate jaw coupling size that will provide reliable and efficient power transmission in the specific application.



editor by CX 2023-08-07