Product Description
High Quality NM HRC FCL L Type Flexible Jaw Coupling
1. Material: Carbon steel, Alloy steel, Aluminum, Rubber and Cast Iron etc.
2. Finishing: Painted, blacken, zinc plated and so on.
3. OEM and ODM are available
4. Quick and easy mounting and disassembly.
5. High quality with competitive price
Our coupling type as below:
Chain Coupling: 3012, 4012, 4014, 4018, 5014, 5016, 5018, 6018, 6571, 6571, 8018, 8571, 8571, 1571, 12018, 12571
Tyre Coupling: A40,A50,A60,A70,A80,A90,A100,A110,A120,A140,A160,A180,A200
HRC Coupling: 70, 90, 110, 130, 150, 180, 230, 280
MH Coupling:  45, 55, 65, 80, 90, 115, 130, 145, 175, 200
NM Coupling: 50, 67, 82, 97, 112, 128, 148, 168, 194, 214, 240, 265
Jaw Coupling:  L035, L050, L070, L075, L090, L095, L099, L100, L110, L150, L190, L225
Flange Coupling: 90, 100, 112, 125, 140, 160, 180, 200, 224, 250, 280, 315, 355, 400, 450, 560, 630
Pin Coupling: 67, 83, 102, 134, 178, 204, 254, 318
Spacer Coupling: F40, F50, F60, F70, F80, F90, F100, F110, F120, F140
Jaw Coupling:  L035, L050, L070, L075, L090, L095, L099, L100, L110, L150, L190, L225
HangZhou CHINAMFG Industry Co., Ltd. is a specialized supplier of a full range of chains, sprockets, gears, gear racks, v belt pulley, timing pulley, V-belts, couplings, machined parts and so on.
Due to our CHINAMFG in offering best service to our clients, understanding of your needs and overriding sense of responsibility toward filling ordering requirements, we have obtained the trust of buyers worldwide. Having accumulated precious experience in cooperating with foreign customers, our products are selling well in the American, European, South American and Asian markets. Our products are manufactured by modern computerized machinery and equipment. Meanwhile, our products are manufactured according to high quality standards, and complying with the international advanced standard criteria.
With many years' experience in this line, we will be trusted by our advantages in competitive price, one-time delivery, prompt response, on-hand engineering support and good after-sales services.
Additionally, all our production procedures are in compliance with ISO9001 standards. We also can design and make non-standard products to meet customers' special requirements. Quality and credit are the bases that make a corporation alive. We will provide best services and high quality products with all sincerity. If you need any information or samples, please contact us and you will have our soon reply.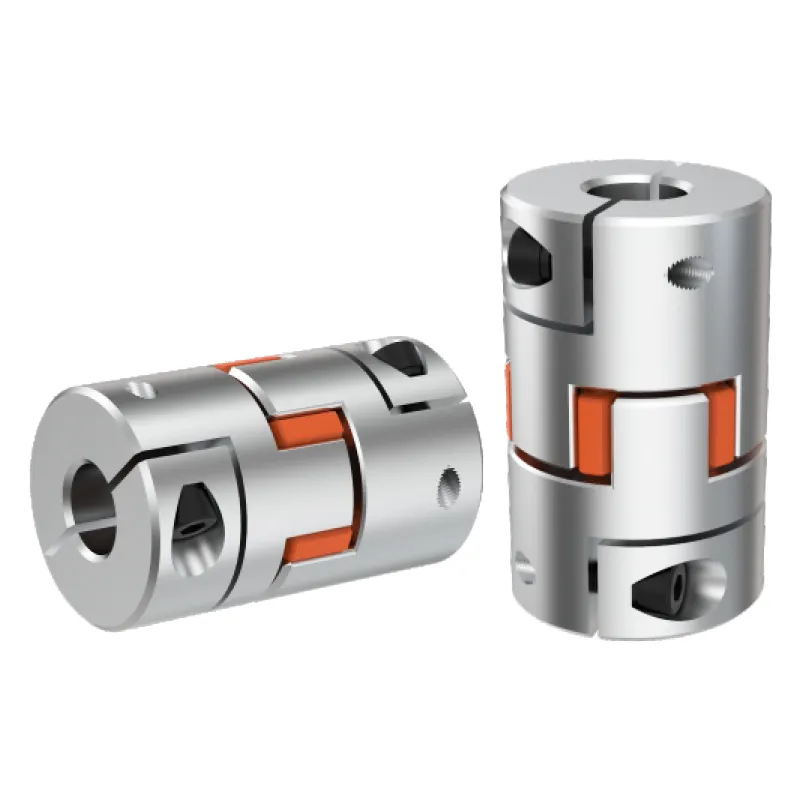 Minimizing Wear and Tear on Connected Components with Jaw Couplings
A jaw coupling plays a critical role in minimizing wear and tear on connected components by providing several key benefits:
Shock Absorption: Jaw couplings have a flexible elastomeric element between the two hubs, which acts as a cushion and absorbs shocks and vibrations. When the connected machinery experiences sudden jolts or impacts, the jaw coupling helps dampen these forces, protecting the equipment from damage and reducing wear on components.
Misalignment Compensation: In mechanical systems, misalignment between shafts is a common issue that can lead to premature wear on components. Jaw couplings can tolerate a certain degree of angular, parallel, and axial misalignment, allowing for better alignment between the driving and driven components. This feature helps distribute forces more evenly and reduces stress on connected components.
Resilience to Overloads: Jaw couplings can withstand temporary overloads, such as starting torque or sudden load spikes, without causing damage to the connected equipment. The elastomeric element of the jaw coupling acts as a torque limiter, protecting the machinery from excessive loads and preventing wear and tear.
Backlash Prevention: Backlash, which is the play or clearance between mating gears or components, can cause impact forces during reversing motions. Jaw couplings offer low backlash performance, reducing the potential for impact and minimizing wear on gears and other components.
Reduced Maintenance: By providing shock absorption, misalignment compensation, overload protection, and low backlash, jaw couplings help extend the service life of connected components. This, in turn, reduces the frequency of maintenance and replacement, leading to cost savings and increased productivity.
Smooth Power Transmission: Jaw couplings transmit power smoothly between the driving and driven shafts, resulting in less stress on components. The torsional flexibility of the elastomeric element helps prevent abrupt torque spikes, contributing to improved component longevity.
Overall, the jaw coupling's ability to absorb shocks, compensate for misalignment, handle overloads, and provide smooth power transmission makes it an effective solution for minimizing wear and tear on connected components. Regular inspection and maintenance of the jaw coupling are still essential to ensure its optimal performance and extend the life of the entire mechanical system.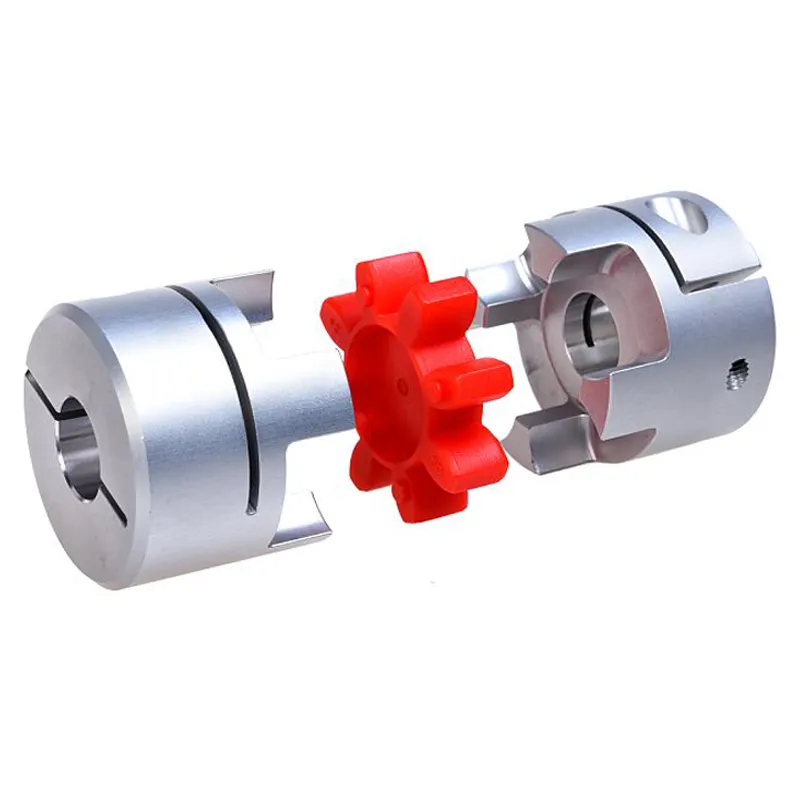 How does a jaw coupling help in torque and rotational speed control?
A jaw coupling plays a vital role in torque and rotational speed control by facilitating efficient power transmission while compensating for misalignments and dampening vibrations. Here's how a jaw coupling helps in achieving torque and rotational speed control:
Torque Transmission: Jaw couplings are designed to transmit torque between two shafts with minimal power loss. The elastomer spider, which acts as the flexible element between the two coupling hubs, efficiently transfers torque from one shaft to the other. This precise torque transmission is essential in maintaining consistent rotational motion and controlling the speed of the driven equipment.
Misalignment Compensation: In rotating machinery, misalignments between the motor and driven equipment are common due to factors like installation errors, thermal expansion, or shaft deflection. Jaw couplings can handle both angular and parallel misalignments. By accommodating these misalignments, jaw couplings ensure smooth operation and prevent unnecessary stress on the equipment, thus contributing to torque and rotational speed control.
Vibration Damping: Vibrations are an inherent characteristic of rotating machinery and can affect torque and rotational speed stability. The elastomer spider in the jaw coupling acts as a damping element, absorbing and dissipating vibrations. This vibration damping capability reduces the risk of speed fluctuations and enhances overall system stability during operation.
Start-Up and Overload Protection: During start-up or when the driven equipment experiences sudden overload conditions, there may be spikes in torque and rotational speed. Jaw couplings, with their torsional flexibility, can absorb these sudden torque variations, protecting the equipment from damage and providing smoother start-up and operation.
The combination of precise torque transmission, misalignment compensation, vibration damping, and overload protection makes jaw couplings effective in achieving torque and rotational speed control. However, it is essential to choose the appropriate jaw coupling size and material for the specific application to ensure optimal performance and reliability.
For applications that require even higher torque capacity or stricter speed control, specialized coupling types like gear couplings or servo couplings may be more suitable. These couplings offer advanced features for precision motion control and torque transmission in more demanding applications.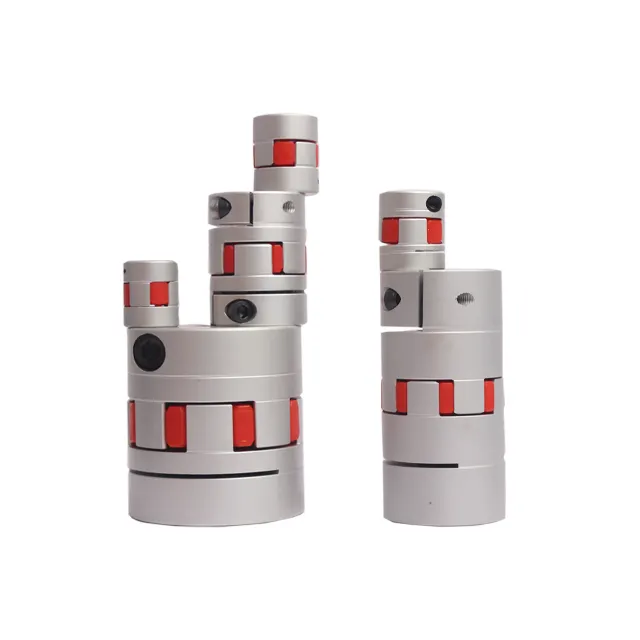 Maintenance Requirements for Jaw Couplings
Jaw couplings are relatively low-maintenance components, but regular inspections and preventive measures can help ensure their optimal performance and longevity. Here are the maintenance requirements for jaw couplings:
Visual Inspections: Regularly inspect the jaw coupling for signs of wear, damage, or misalignment. Look for cracks, chips, or deformation in the elastomeric spider, hubs, and other components.
Lubrication: Some jaw couplings require periodic lubrication of the elastomeric spider to prevent dry rot and ensure flexibility. Refer to the manufacturer's guidelines for the appropriate lubrication schedule and type.
Tighten Fasteners: Check and tighten all fasteners, including set screws, regularly to prevent coupling slippage and maintain a secure connection between the shafts and hubs.
Alignment: Ensure that the shafts connected by the jaw coupling are properly aligned. Excessive misalignment can lead to premature wear and failure of the elastomeric spider.
Replace Worn Parts: If any component of the jaw coupling shows signs of wear beyond acceptable limits, promptly replace it to avoid further damage and potential system failure.
Operating Conditions: Monitor the operating conditions of the machinery to prevent overheating or overloading, which can affect the performance and life of the coupling.
Following these maintenance practices can extend the life of the jaw coupling, reduce the risk of unexpected failures, and contribute to the overall reliability of the mechanical system.



editor by CX 2023-10-01