Product Description
Densen customaized jaw types flexible aluminum shaft coupling,aluminum jaw coupling
| | |
| --- | --- |
| Product Name | Jaw types flexible aluminum shaft coupling,aluminum jaw coupling,jaw coupling |
| DN mm | 16~190mm |
| Rated Torque | 40~25000 N·m |
| Allowable speed | 4500~200 kN·m |
| Material | 45#steel |
| Application | Widely used in metallurgy, mining, engineering and other fields. |
Product show
Company Information
Equipment
Application Case
Typical case of diaphragm coupling applied to variable frequency speed control equipment
JMB type coupling is applied to HangZhou Oilfield Thermal Power Plant
According to the requirements of HangZhou Electric Power Corporation, HangZhou Oilfield Thermal Power Plant should dynamically adjust the power generation according to the load of the power grid and market demand, and carry out the transformation of the frequency converter and the suction fan. The motor was originally a 1600KW, 730RPM non-frequency variable speed motor matched by HangZhou Motor Factory. The speed control mode after changing the frequency is manual control. Press the button speed to increase 10RPM or drop 10RPM. The coupling is still the original elastic decoupling coupling, and the elastic de-coupling coupling after frequency conversion is frequently damaged, which directly affects the normal power generation.
It is found through analysis that in the process of frequency conversion speed regulation, the pin of the coupling can not bear the inertia of the speed regulation process (the diameter of the fan impeller is 3.3 meters) and is cut off, which has great damage to the motor and the fan.
Later, they switched to the JMB460 double-diaphragm wheel-type coupling of our factory (patent number: ZL.99246247.9). After 1 hour of destructive experiment and more than 1 year of operation test, the equipment is running very well, and there is no Replace the diaphragm. 12 units have been rebuilt and the operation is in good condition.
Other Application Case
Spare parts
Packaging & Shipping
Contact us
Why Choose Us
1. One stop service:
We have 5 own factories and 50+ sub-contractors located in different areas of China to offer you one-stop manufacturing and purchasing services to help you save time and reduce procurement cost.
2. Your eyes in China:
Our commitment to quality permeates from quoting, scheduling, production, inspection to deliver into your warehouse, our QC team will remark the errors if has on QC documents for your checking before delivery as your 3rd party.
3. Your R&Dconsultant:
With professional engineers team and 29 years manufacture experience ,we would help you work out problems during new parts' development, optimize design and recommend the most cost-effective solution.
4. Your Emergency Solver:
With continued grown factories team and our QC teams located in different areas, if customers need to expedite the delivery, we would be able to adopt another factory to produce together immediately.
5. Quality Guaranty:
No matter how long time the products delivered, we are responsible for the quality. In case the products be rejected, we would replace them or return fund according to your demand without hesitation
FAQQ1. Are you a manufacturer or a trader?
Manufacture, we have 5 own foundries, 4 in ZheJiang Province, 1 in ZHangZhoug Province
Q2. Do you have MOQ request?
1 pcs per order is ok with us , unless material is seldom used.
Q3. If I only have a sample,without drawings, can you quote then manufacture for me?
Just send us the sample, we would have the sample simulated and measured by professional equipment then issue formal drawings for
you , at the same time, we could help you optimize the design according to your demand and related processes' feasibility.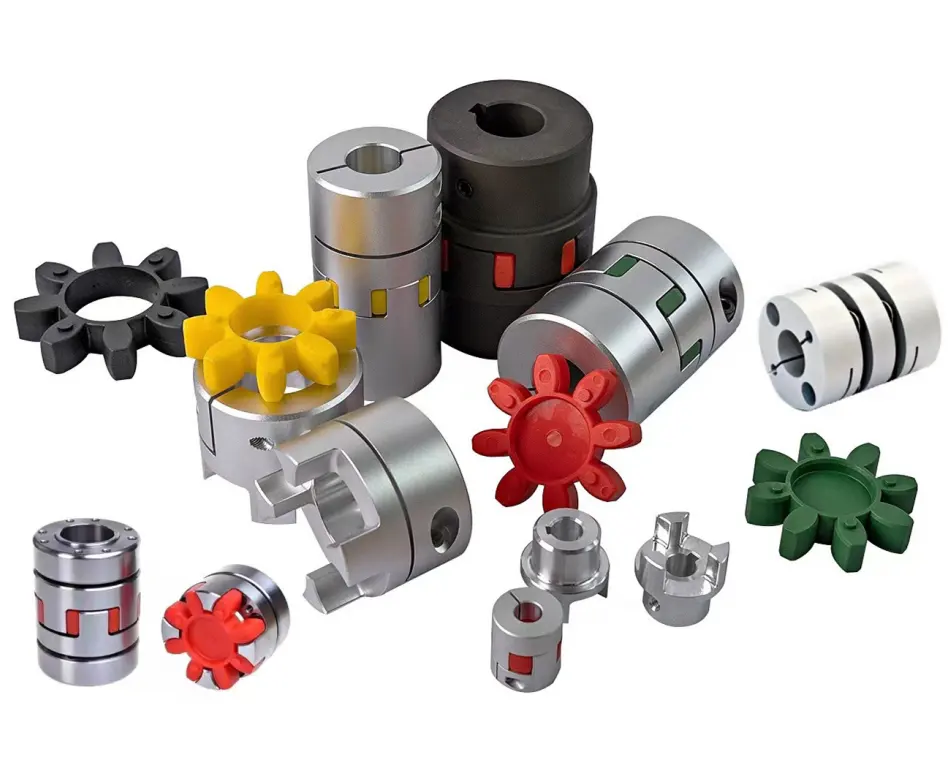 Accommodating Variable Operating Conditions and Loads with Jaw Couplings
Jaw couplings are designed to accommodate variable operating conditions and loads, making them suitable for a wide range of applications. Here's how jaw couplings achieve this:
Flexibility: The elastomeric spider (flexible element) in a jaw coupling provides flexibility, allowing for angular, parallel, and axial misalignment between the connected shafts. This flexibility helps to compensate for minor misalignments that may occur during operation or due to changes in operating conditions.
Shock Absorption: The elastomeric spider also acts as a shock absorber, dampening vibrations and reducing the impact of sudden loads or shocks. This feature is particularly beneficial in applications where the connected equipment may experience variable or unpredictable loads.
Torsional Stiffness Options: Jaw couplings are available in different torsional stiffness options, depending on the specific application requirements. Couplings with higher torsional stiffness are suitable for precision applications with minimal misalignment, while those with lower stiffness are ideal for applications with higher misalignment and shock absorption needs.
Material Selection: Jaw couplings can be manufactured from various materials, such as aluminum, steel, or stainless steel, to suit different environmental conditions and loads. Corrosion-resistant materials are available for harsh environments, ensuring the coupling's performance remains unaffected by changing operating conditions.
Size and Torque Ratings: Jaw couplings are available in a wide range of sizes and torque ratings, allowing users to select the appropriate coupling based on the expected operating conditions and torque requirements of the application. It's essential to choose a coupling size that comfortably handles the maximum expected load.
Interchangeability: Many jaw couplings are designed to be interchangeable with other manufacturers' couplings of the same size and type. This feature provides flexibility in sourcing replacements and makes it easier to adapt the coupling to changing requirements or equipment configurations.
Overall, jaw couplings' ability to handle variable operating conditions, misalignments, and loads makes them versatile and reliable components in a wide range of mechanical systems and applications.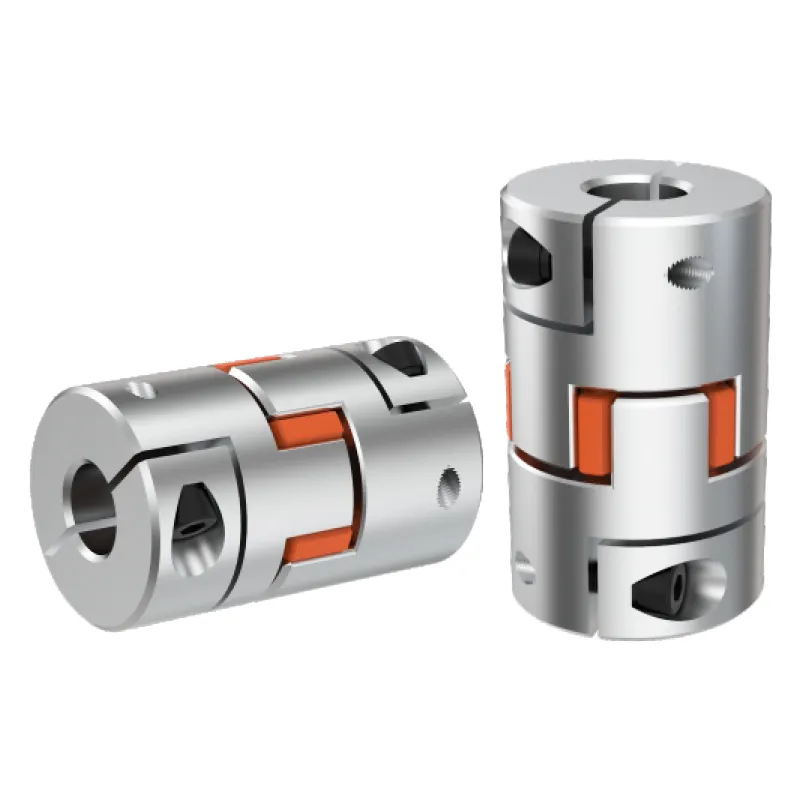 What are the factors influencing the thermal performance of a jaw coupling?
The thermal performance of a jaw coupling is influenced by several factors that affect its ability to dissipate heat and handle temperature fluctuations during operation. Here are the key factors that can impact the thermal performance of a jaw coupling:
Material Selection: The choice of materials used in the construction of the jaw coupling plays a significant role in its thermal performance. High-quality materials with good thermal conductivity can efficiently dissipate heat, reducing the risk of overheating and premature wear. Common materials used in jaw couplings include steel, aluminum, and various elastomers.
Elastomer Spider: The elastomer spider in the jaw coupling is a crucial component that can influence thermal performance. The type of elastomer and its specific characteristics, such as hardness and thermal conductivity, can affect the coupling's ability to absorb and dissipate heat generated during operation.
Operating Speed: The rotational speed of the coupling impacts its thermal performance. Higher operating speeds can generate more heat due to increased friction and stress on the coupling components. It is essential to ensure that the jaw coupling is rated for the specific operating speed of the application to prevent overheating and premature failure.
Torque and Load: The torque and load applied to the jaw coupling can also influence its thermal performance. Higher torque and load levels can result in increased heat generation. Properly sizing the coupling based on the application's torque and load requirements is essential to prevent excessive heat buildup.
Operating Environment: The environment in which the jaw coupling operates can impact its thermal performance. For example, if the coupling is located in an area with limited airflow or high ambient temperatures, it may experience reduced heat dissipation capabilities. On the other hand, an environment with good ventilation can help in maintaining the coupling's thermal performance.
Lubrication: Some jaw couplings may require lubrication to reduce friction and heat generation. Proper lubrication can enhance the coupling's thermal performance and extend its service life. It is essential to follow the manufacturer's guidelines regarding the type and frequency of lubrication to ensure optimal performance.
Continuous vs. Intermittent Operation: The thermal performance of a jaw coupling can also be influenced by the nature of its operation—continuous or intermittent. Intermittent operation allows the coupling to cool down between cycles, reducing the overall heat buildup compared to continuous operation, which may lead to higher operating temperatures.
Overall, careful consideration of these factors is crucial in ensuring the efficient thermal performance of a jaw coupling. Proper selection, installation, and maintenance of the coupling based on the specific application requirements can help prevent overheating, reduce wear, and prolong the coupling's lifespan.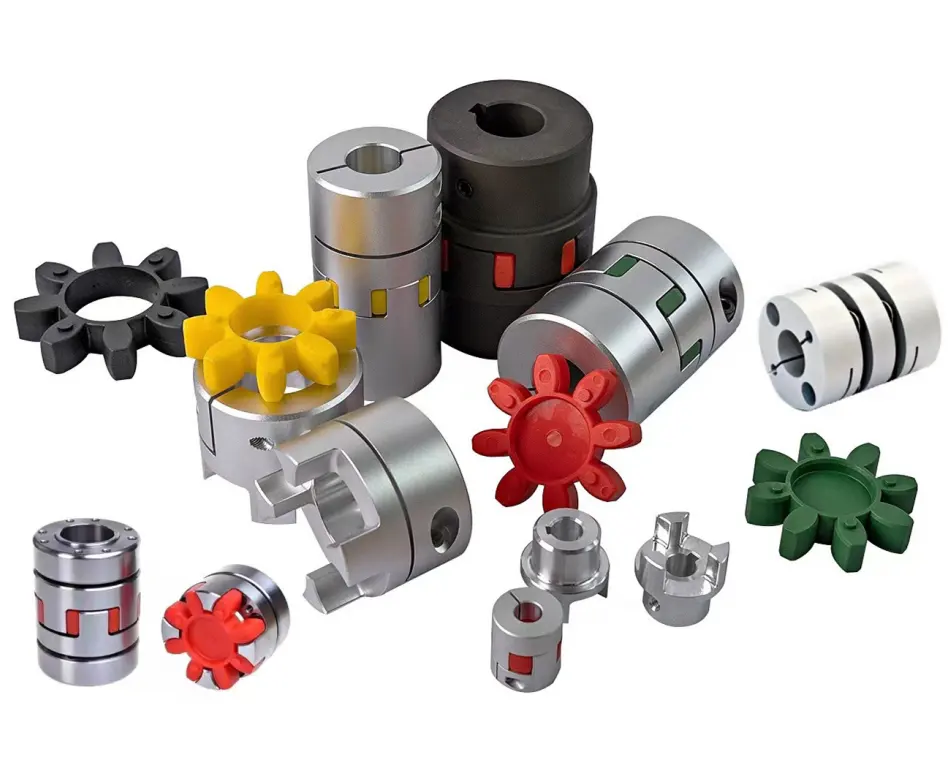 Safety Considerations When Using Jaw Couplings in Rotating Machinery
While jaw couplings are generally safe to use in rotating machinery, there are some important safety considerations to keep in mind to ensure safe and reliable operation:
Proper Installation: Correct installation is crucial for the safe functioning of jaw couplings. The coupling should be mounted precisely in alignment with the shafts to prevent misalignment and minimize stress on the components.
Regular Maintenance: Regular inspection and maintenance are essential to identify signs of wear, misalignment, or damage. Any issues should be addressed promptly to prevent potential failures that may compromise safety.
Load Capacity: Ensure that the selected jaw coupling has an adequate load capacity for the specific application. Overloading the coupling can lead to premature failure and safety risks.
Operating Speed: Be mindful of the operating speed limitations of the jaw coupling. Operating the coupling beyond its maximum rated speed may result in excessive wear and potential hazards.
Environmental Factors: Consider the environmental conditions in which the jaw coupling will operate. Extreme temperatures, humidity, or corrosive substances may impact the coupling's performance and longevity.
Emergency Shutdown: Implement an emergency shutdown procedure to quickly stop the machinery in case of any unexpected issues or safety concerns.
Guarding and Enclosure: Depending on the application, consider using protective guarding or enclosures to prevent accidental contact with rotating components and ensure operator safety.
Compliance with Standards: Follow industry standards and regulations relevant to the specific application to ensure compliance and adherence to safety guidelines.
By adhering to these safety considerations, operators and maintenance personnel can help minimize the risk of accidents, protect personnel from potential hazards, and ensure the reliable and safe operation of rotating machinery with jaw couplings.



editor by CX 2023-10-06