Product Description
Flexible Coupling, High Quality Jaw Coupling
Product Description
1.LT type shaft coupling with elastic sleeve and pin are widely used in various mechanical and hydraulic fields, can adapt positive and negative changeful start frequent occasions.
2.Printing machinery / Packing machinery / Wood-working machinery etc large-scale mechanical equipment.
Design feature:
1.Because of elastic sleeve distortion and the teeth clearance between ring holes of half-coupling,the coupling has some compensatory of relativity shir and isolation properties.
2.Working temperature is -20ºC~+70ºC.
3.The marking method of Keyway forms and shaft holes size must be in accord with GB/T3852-1997.
 
Product Parameters
Type
Nominal torque
N·m
Speed
rpm
Bore diameter (mm)
d1,d2,dz
Length of bore(mm)
D
A
S
Limited compensation
Mass
kg
Rotary
Inertia
kg·m2
Y Type
J,J1,Z Type
Radial
mm
Angle
Iron
Steel
Iron
Steel
L
L1
L
 
mm
 
 
 
 
 
LT1
6.3
6600
8800
9
9
20
14
 
71
18
3
0.2
1°30´
0.82
0.0005
10,11
10,11
25
17
12
12,14
32
20
LT2
16
5500
7600
12,14
12,14
32
20
 
80
18
3
0.2
1°30´
1.20
0.0008
16
16,18,19
42
30
42
LT3
31.5
4700
6300
16,18,19
16,18,19
42
30
42
95
35
4
0.2
1°30´
2.20
0.571
20
20,22
52
38
52
LT4
63
4200
5700
20,22,24
20,22,24
52
38
52
106
35
4
0.2
1°30´
2.84
0.0037
–
25,28
62
44
62
LT5
125
3600
4600
25,28
25,28
62
44
62
130
45
5
0.3
1°30´
6.05
0.012
30,32
30,32,35
82
60
82
LT6
250
3300
3800
30,35,38
32,35,38
82
60
82
160
45
5
0.3
1°00´
9.57
0.571
40
40,42
112
84
112
LT7
500
2800
3600
40,42,45
40,42,45,48
112
84
112
190
45
5
0.3
1°00´
14.01
0.055
LT8
710
2400
3000
45,48,50,55
45,48,50,55,56
112
84
112
224
65
6
0.4
1°00´
23.12
0.1340
–
60,63
142
107
142
LT9
1000
2100
2850
50,55,56
50,55,56
112
84
112
250
65
6
0.4
1°00´
30.69
0.2130
60,63
60,63,65,70,71
142
108
142
LT10
2000
1700
2300
63,65,70,71,75
63,65,70,71,75
142
108
142
315
80
8
0.4
1°00´
61.40
0.660
80,85
80,85,90,95
172
132
172
LT11
4000
1350
1800
80,85,90,95
80,85,90,95
172
132
172
400
100
10
0.5
0°00´
120.70
2.122
100,110
100,110
212
167
212
LT12
8000
1100
1450
100,110,120,125
100,110,120,125
212
167
212
475
130
12
0.5
0°00´
0°00´
210.34
5.39
–
13
252
202
252
LT13
16000
800
1150
120,125
120,125
212
167
212
600
180
14
0.6
0°00´
419.36
11.58
130,140,150
130,140,150
252
202
252
160
160,170
302
242
302
NOTE:
1.Coupling weights in the sheet are calculated according to the minimum diameter and maximum length of the shaft hole.
2.Short overloading can not exceed 2 times rated normal torque.
3.Type of shaft holes, the lengths of L and L1 also can be produced as customer requirements.
4.Rotational inertia are similar value.
 
Detailed Photos
Company Profile
HangZhou CZPT Machinery Manufacturing Co., Ltd. is a high-tech enterprise specializing in the design and manufacture of various types of coupling. There are 86 employees in our company, including 2 senior engineers and no fewer than 20 mechanical design and manufacture, heat treatment, welding and other professionals.
Advanced and reasonable process, complete detection means. We company actively introduce foreign advanced technology and equipment, on the basis of the condition, we make full use of the advantage and do more research and innovation. Strict to high quality and operate strictly in accordance with the ISO9000 quality certification system standard mode.
Our company supplies different kinds of products. High quality and reasonable price. We stick to the principle of "quality first, service first, continuous improvement and innovation to meet the customers" for the management and "zero defect, zero complaints" as the quality objective.
After Sales Service
1.Design Services
Our design team has experience in cardan shaft relating to product design and development. If you have any needs for your new product or wish to make further improvements, we are here to offer our support.
2.Product Services
raw materials → Cutting → Forging →Rough machining →Shot blasting →Heat treatment →Testing →Fashioning →Cleaning→ Assembly→Packing→Shipping
3.Samples Procedure
We could develop the sample according to your requirement and amend the sample constantly to meet your need.
4.Research & Development
We usually research the new needs of the market and develop the new model when there is new cars in the market.
5.Quality Control
Every step should be special test by Professional Staff according to the standard of ISO9001 and TS16949.
 
FAQ
Q 1: Are you trading company or manufacturer?
A: We are a professional manufacturer specializing in manufacturing
various series of couplings.
Q 2:Can you do OEM?
Yes, we can. We can do OEM & ODM for all the customers with customized artworks of PDF or AI format.
Q 3:How long is your delivery time?
Generally it is 20-30 days if the goods are not in stock. It is according to quantity.
Q 4: Do you provide samples ? Is it free or extra ?
Yes, we could offer the sample but not for free.Actually we have a very good price principle, when you make the bulk order then cost of sample will be deducted.
Q 5: How long is your warranty?
A: Our Warranty is 12 month under normal circumstance.
Q 6: What is the MOQ?
A:Usually our MOQ is 1pcs.
Q 7: Do you have inspection procedures for coupling ?
A:100% self-inspection before packing.
Q 8: Can I have a visit to your factory before the order?
A: Sure,welcome to visit our factory.
Q 9: What's your payment?
A:1) T/T. 
♦Contact Us
Web: huadingcoupling
Add: No.11 HangZhou Road,Chengnan park,HangZhou City,ZheJiang Province,China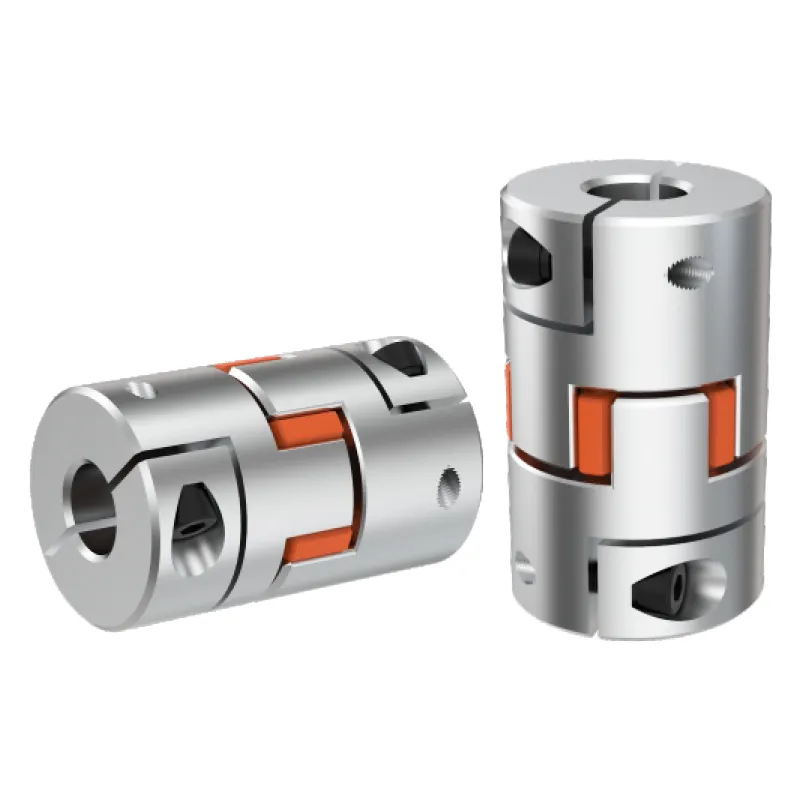 Impact of Jaw Coupling on the Overall Reliability of Connected Equipment
A jaw coupling plays a critical role in enhancing the overall reliability of connected equipment in mechanical power transmission systems. Its design and features contribute to various aspects that positively influence reliability:
Misalignment Compensation: One of the key benefits of jaw couplings is their ability to accommodate misalignment between shafts. By allowing for angular, parallel, and axial misalignment, the jaw coupling reduces stress on connected equipment. It helps prevent excessive forces and shaft bending that can lead to premature wear or failure.
Shock Absorption: The elastomeric spider element used in jaw couplings acts as a shock absorber. It dampens vibrations and shock loads, protecting connected equipment from sudden jolts or impacts that could cause damage or fatigue over time.
Torsional Damping: Jaw couplings provide torsional damping, reducing the risk of torsional vibrations that can negatively affect equipment performance. By minimizing vibrations, the coupling contributes to smoother operation and extended equipment life.
Fail-Safe Design: In the event of a spider failure, jaw couplings often offer a fail-safe design. The spider is a replaceable component, and its failure does not typically lead to catastrophic failure of the coupling or connected equipment. This characteristic enhances the overall system reliability and simplifies maintenance.
Low Maintenance: Jaw couplings are relatively low maintenance compared to other coupling types. The elastomeric spider does not require lubrication and has a longer service life compared to metallic couplings. This reduces the frequency of maintenance activities, minimizing downtime and increasing equipment reliability.
Backlash-Free Operation: Some jaw couplings are designed to provide backlash-free operation, ensuring accurate motion transmission without play or clearance. This feature is particularly important in precision systems, preventing positioning errors and contributing to consistent performance.
Corrosion Resistance: Jaw couplings are available in various materials, including stainless steel and corrosion-resistant alloys. Choosing the appropriate material for the specific environment ensures the coupling's longevity and reliability, even in harsh operating conditions.
Reduced Vibration Transfer: By isolating vibrations, jaw couplings prevent the transfer of harmful vibrations between connected equipment. This safeguard is crucial in delicate systems where excessive vibrations could lead to malfunction or damage.
Overall, a well-chosen and properly installed jaw coupling positively impacts the reliability of connected equipment. It helps prevent mechanical stress, dampens vibrations, and provides a reliable connection between shafts, contributing to the smooth and efficient operation of the entire mechanical system.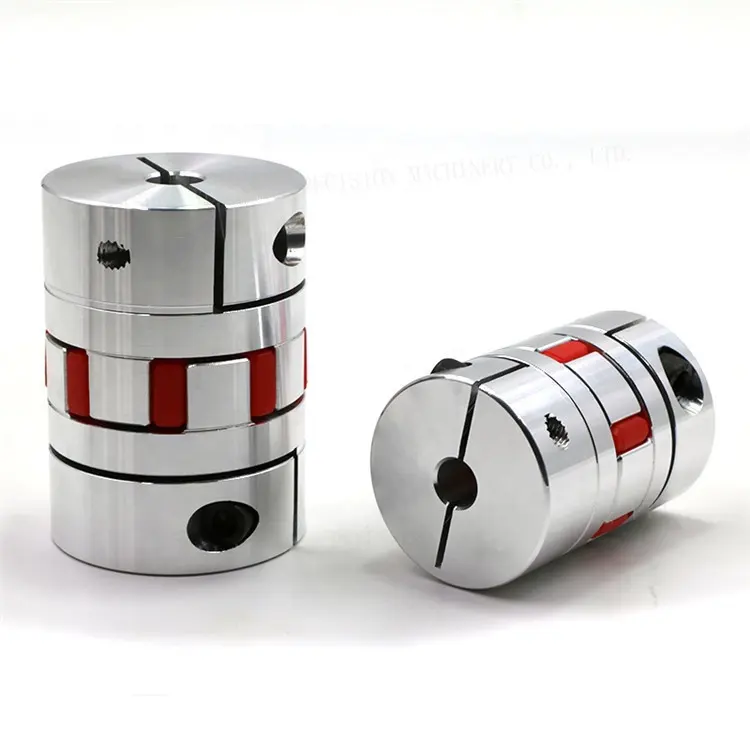 What are the real-world applications of jaw couplings in various industries?
Jaw couplings find extensive use in various industries due to their versatility, ease of installation, and ability to handle misalignment. Their robust design and flexible elastomer spider make them suitable for a wide range of applications. Here are some real-world applications of jaw couplings in different industries:
Industrial Machinery: Jaw couplings are commonly used in industrial machinery for power transmission between motors and driven equipment. They are found in conveyor systems, pumps, fans, compressors, mixers, and other rotating equipment. Their ability to compensate for misalignment and dampen vibrations makes them ideal for such applications.
Agriculture: In agricultural equipment, jaw couplings are employed to transfer power from tractors or other power sources to various implements such as plows, mowers, and harvesters. The couplings' resistance to shock and impact loads makes them suitable for the rugged conditions encountered in agricultural operations.
Construction and Mining: Jaw couplings are used in construction and mining machinery to transmit power between engines and equipment like concrete mixers, excavators, rock crushers, and conveyor systems. The couplings' ability to handle misalignment and shock loads is beneficial in these demanding and dynamic environments.
Material Handling: Jaw couplings are employed in material handling systems, including automated production lines and warehouse conveyors. They facilitate smooth power transmission in equipment like belt conveyors, bucket elevators, and packaging machines.
Marine: In the marine industry, jaw couplings are used in propulsion systems to connect engines to propellers and other equipment. Their resistance to corrosion and ability to handle misalignment make them suitable for marine applications in various vessels, including boats and ships.
Printing and Packaging: Jaw couplings are used in printing and packaging machinery to drive rollers, slitters, and other components. Their precise torque transmission and ability to handle small misalignments contribute to the smooth operation of these machines.
Automotive: In the automotive sector, jaw couplings are used in various applications, including power steering systems, engine-driven accessories, and HVAC blowers. Their compact design and efficient power transmission characteristics are well-suited for automotive applications.
Textile: Jaw couplings are used in textile machinery to drive spinning frames, looms, and other textile processing equipment. Their ability to handle misalignment and provide smooth power transmission is vital in maintaining the precision required for textile production.
Medical Equipment: Jaw couplings are utilized in medical devices and equipment to transfer power between motors and driven components. Their compact size and quiet operation are advantageous for various medical applications.
Renewable Energy: Jaw couplings are used in renewable energy applications, such as wind turbines and solar tracking systems, to transmit power between the generator and other components. Their ability to handle misalignment is beneficial in these dynamically changing environments.
In summary, jaw couplings have widespread applications across multiple industries due to their ability to handle misalignment, dampen vibrations, and provide efficient power transmission. Their adaptability and reliability make them a popular choice for various mechanical systems in different sectors.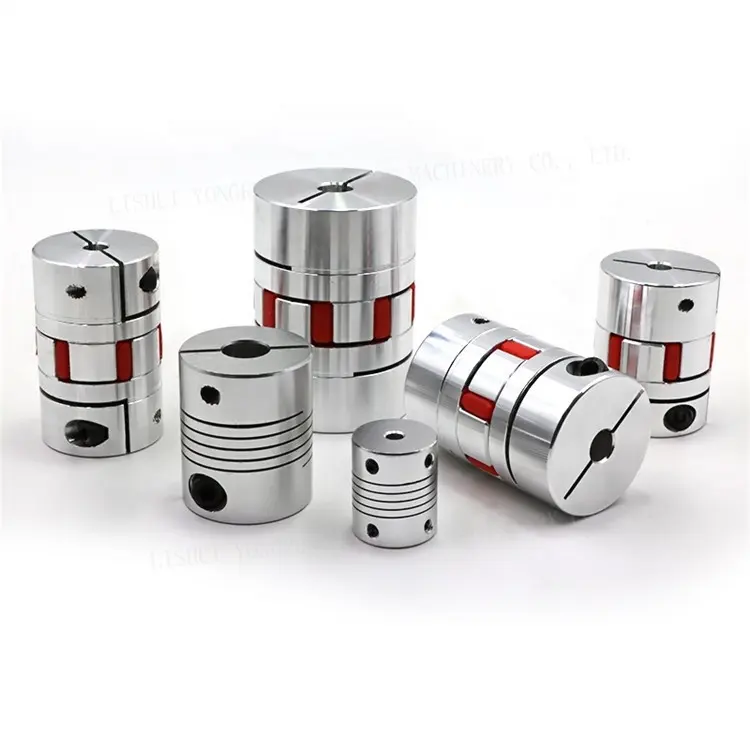 Use of Jaw Couplings in Various Industries for Power Transmission
Jaw couplings are widely used in different industries for power transmission due to their many advantages, including their ability to handle misalignment, shock loads, and vibrations. Some of the industries that commonly use jaw couplings include:
Manufacturing: Jaw couplings are extensively used in manufacturing machinery such as conveyors, mixers, and packaging equipment.
Automotive: In the automotive industry, jaw couplings are employed in various applications, including engine-driven accessories and conveyor systems in assembly lines.
Agriculture: Farming equipment, such as tractors and harvesting machines, often use jaw couplings to transmit power from the engine to different attachments.
Material Handling: Jaw couplings are found in material handling equipment like forklifts, cranes, and hoists.
Water and Wastewater: Pumps and compressors used in water and wastewater treatment plants frequently utilize jaw couplings for power transmission.
Food and Beverage: Jaw couplings are used in food processing machinery where cleanliness, reliability, and flexibility are essential.
Textile: Textile manufacturing equipment, such as looms and spinning machines, often use jaw couplings to transmit power from motors to various components.
Packaging: Packaging machines and equipment benefit from jaw couplings' ability to absorb shocks and vibrations.
Printing: Printing presses and related machinery commonly use jaw couplings for their precise power transmission.
These are just a few examples, but jaw couplings are found in numerous other industries where power transmission and motion control are critical aspects of the equipment's operation. Their ease of installation, maintenance, and high-performance capabilities make them a popular choice for a wide range of applications.



editor by CX 2023-09-14